My Blog
Posts for tag: veneers
By Andrew J. Spiridigloizzi, D.D.S.
March 30, 2017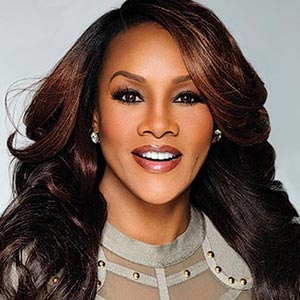 What's an actor's most important feature? According to Vivica A. Fox, whose most recent big-screen role was in Independence Day: Resurgence, it's what you see right up front.
"On screen, your smile and your eyes are the most inviting things that bring the audience in" she said. "Especially if you play the hot chick."
But like lots of people, Vivica reached a point where she felt her smile needed a little help in order to look its best. That's when she turned to a popular cosmetic dental treatment.
"I got veneers years ago," Ms. Fox told Dear Doctor magazine in a recent interview, "just because I had some gapping that probably only I noticed."
What exactly are dental veneers? Essentially, they are thin shells of lustrous porcelain that are permanently attached to the front surfaces of the teeth. Tough, lifelike and stain-resistant, they can cover up a number of defects in your smile — including stains, chips, cracks, and even minor spacing irregularities like the ones Vivica had.
Veneers have become the treatment of choice for Hollywood celebs — and lots of regular folks too — for many reasons. Unlike some treatments that can take many months, it takes just a few appointments to have veneers placed on your teeth. Because they are custom made just for you, they allow you to decide how bright you want your smile to be: anywhere from a natural pearly hue to a brilliant "Hollywood white." Best of all, they are easy to maintain, and can last for many years with only routine care.
To place traditional veneers, it's necessary to prepare the tooth by removing a small amount (a millimeter or two) of its enamel surface. This keeps it from feeling too big — but it also means the treatment can't be reversed, so once you get veneers, you'll always have them. In certain situations, "no-prep" or minimal-prep veneers, which require little or no removal of tooth enamel, may be an option for some people.
Veneers aren't the only way to create a better smile: Teeth whitening, crowns or orthodontic work may also be an alternative. But for many, veneers are the preferred option. What does Vivica think of hers?
"I love my veneers!" she declared, noting that they have held up well for over a decade.
For more information about veneers, please contact us or schedule an appointment for a consultation.
By Andrew J. Spiridigloizzi, D.D.S.
November 06, 2016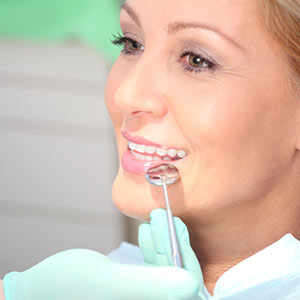 With its life-like color and texture, dental porcelain can restore a smile marred by decayed or damaged teeth. This durable ceramic material not only matches the varieties of individual tooth colors and hues, its translucence mimics the appearance of natural teeth. But perhaps its greatest benefit is its adaptability for use in a number of different applications, particularly veneers and crowns.
Veneers are thin layers of dental porcelain laminated together and permanently bonded to cover the visible outer side of a tooth to improve its appearance. Crowns, on the other hand, are "caps" of dental porcelain designed to completely cover a defective tooth.
Veneers and crowns share a number of similarities. Both can alter the color and shape of teeth, although crowns are used when more extensive tooth structure has been damaged. They're also "irreversible," meaning the tooth must be altered in such a way that it will always require a veneer or crown, though on some occasions a veneer can require no removal of tooth structure and can be reversible.
They do, however, have some differences as to the type of situation they address. Veneers are generally used where the affected teeth have a poor appearance (chipped, malformed or stained, for example) but are still structurally healthy. And although they do generally require some removal of tooth enamel to accommodate them (to minimize a "bulky" appearance), the reduction is much less than for a crown.
Crowns, on the other hand, restore teeth that have lost significant structure from disease, injury, stress-related grinding habits or the wearing effects of aging. Since they must contain enough mass to stand up to the normal biting forces a tooth must endure, a significant amount of the original tooth structure must be removed to accommodate them.
Which application we use will depend upon a thorough examination of your teeth. Once we've determined their condition and what you need, we can then recommend the best application for your situation. But regardless of whether we install a veneer or crown, using dental porcelain can help achieve an end result that's truly life-changing — a new, younger-looking smile.
If you would like more information on dental porcelain restorations, please contact us or schedule an appointment for a consultation. You can also learn more about this topic by reading the Dear Doctor magazine article "Porcelain Crowns & Veneers."
By Andrew J. Spiridigloizzi, D.D.S.
October 09, 2014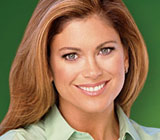 It is not often that you find a celebrity who is willing to speak candidly about any cosmetic or restorative dentistry that he or she has had. Instead, most prefer that their fans just assume that their dazzling "Hollywood" smile is something that just happened naturally. However, that is not the case with Kathy Ireland, the former Sports Illustrated cover girl, current business mogul and founder of kathy ireland Worldwide, a billion dollar marketing and design firm. In a Dear Doctor magazine cover story she talks openly about her dental experiences, injuries and treatment so that people worldwide can understand what may be possible for them.
For Kathy, it happened several years ago when she was playing with her husband and children in their driveway. Kathy decided that she would stand in her children's wagon and surf across their driveway. Instead, she ended up "face-planting," as she describes it, in a freak accident that left her with a broken nose, split forehead and several broken teeth. She recalls that it sounded like a watermelon had smashed. Luckily, her husband, an emergency room physician, was on hand to care for her. Kathy is just as thankful to her cosmetic and restorative dentist who restored her trademark smile with some veneers and a dental implant. Today, the only reminder she has from this accident is a small scar on her nose that she covers with a little makeup.
You would think that this accident would be enough trauma for one person; however, Kathy describes an earlier accident where she knocked out a tooth and then later knocked it loose again. Kathy also wanted to take the time to let readers know that her dental implant experiences were "pretty easy." She did recall, "hearing all the sounds while all of it was going on" and then added, "but I have to tell you, that after being a mom and having kids, going to the dentist...is like going to the spa!" She said that she has even fallen asleep in the dental chair.
To learn more about Kathy Ireland, continue reading the Dear Doctor magazine article "Kathy Ireland." Or if you think cosmetic or restorative dentistry is right for you, contact us today to schedule an appointment to discuss your specific goals.