My Blog
Posts for: February, 2020
By Andrew J. Spiridigloizzi, D.D.S.
February 20, 2020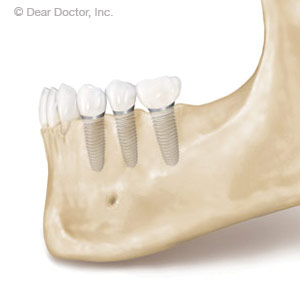 You've probably heard a lot about dental implants as replacements for missing teeth. So, why are they so popular with both patients and dentists? While other restorations can mimic the color, shape and texture of natural teeth, dental implants have one clear advantage — and it's all about the bone.
The bone in your jaws provides stability and structure for teeth — without it and the intricate system of gum tissue attachments teeth couldn't survive the normal biting and chewing forces they encounter every day. That's why bone health is crucial for maintaining tooth integrity.
Teeth also help bone to remain strong and healthy. The forces we generate as we chew transmit through the tooth roots to the bone, which stimulates continuing growth. If a tooth is missing, however, the bone around it doesn't receive this stimulation and may begin to lose some of its volume and density — up to a quarter of its width in just the first year after tooth loss.
This bone loss continues even with other restorations because they're not able to stimulate bone growth. But dental implants can. This is because the portion of the implant imbedded into the bone is constructed most often of titanium, which has a natural affinity toward bone. Bone cells are naturally attracted to titanium and will begin to grow and attach to the metal surface, a process known as osseointegration.
Through osseointegration, the implant develops a durable bond with the jawbone a few weeks after surgery that surpasses other restorations, and is a prime reason for their success rate. Although installing implants can be an expensive undertaking, their proven longevity may result in less maintenance, repair or replacement costs over time than other replacement options.
If you're considering dental implants, remember it's what you can't see beneath the attractive crown that makes them special. And it's a choice you can depend on to provide you a beautiful smile for years to come.
If you would like more information on dental implants, please contact us or schedule an appointment for a consultation. You can also learn more about this topic by reading the Dear Doctor magazine article "Dental Implants."
By Andrew J. Spiridigloizzi, D.D.S.
February 10, 2020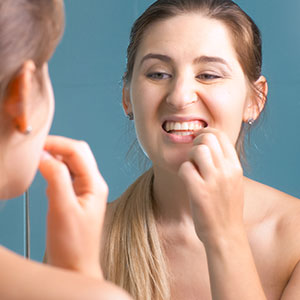 As a saying, "Necessity is the mother of invention" is no more appropriate than when you have something caught between your teeth. And humans, as inventive and creative as we are, have used a weird assortment of items—usually within arms' reach—to dislodge a pesky bit of food.
According to a recent survey, more than three-fourths of Americans admit to using a number of "tools" to clean between teeth including twigs, nails (the finger and toe variety), business cards or (shudder!) screwdrivers. And it's one thing to do this alone, but among dinner companions and other folk it's a definite faux pas.
Usually, it's smarter and more economical if you can use a particular tool for many different applications. But when it comes to your teeth, you should definitely go with a "unitasker" designed specifically for the job: dental floss. It's not only the safest item you can use to clean your teeth, it's specifically designed for that purpose, especially to remove disease-causing plaque from between teeth.
Of course, the reason many of us use alternate items for cleaning between teeth is that they're the closest ones at hand. You can remedy this by keeping a small spool (or a short length) of dental floss or floss picks handy for those moments you encounter a wedged piece of food. In a pinch, you can use a rounded toothpick (better for your gums than the flat variety).
At home if you find flossing difficult, consider using a water flosser. This handheld device emits a pulsating stream of pressurized water that loosens and flushes away plaque and bits of food remnant. It's ideal for people who have a hard time maneuvering floss or who wear braces, which can block regular floss thread from accessing between teeth as fully as possible.
In any case, use the other "tools" at hand for whatever they're intended. When it comes to what's best for your teeth, use floss to keep the in-between clear and clean.
If you would like more information on best oral hygiene practices, please contact us or schedule an appointment for a consultation.