My Blog
Posts for: October, 2017
By Andrew J. Spiridigloizzi, D.D.S.
October 27, 2017
Halloween means loads of fun for kids everywhere: a chance to put on fanciful costumes and have some safe, spooky enjoyment. But the reward for all that trick-or-treating — bags full of sugary candy — can create monstrous problems for young smiles, in the form of tooth decay. Short of taking all those treats away, are there any ways to lessen the impact on your children's teeth?
According to the American Dental Association (ADA), the answer is: Yes!
As long as kids are brushing twice and flossing once a day, it's okay for them to enjoy a few sweet treats on Halloween. But starting that same night, or the next day, you can help protect them from cavities. Here's how:
Sort It Out:
Some treats are potentially more damaging to teeth than others. For example, candy that's sticky and clings to teeth — like gummy bears and taffy — takes longer to get cleared away by saliva. Lengthier contact with the teeth increases the risk of tooth decay. The same is true for sweets that stay in the mouth for a long time, like hard candy. Sour candy is often acidic, and that acid can weaken the hard enamel coating of teeth, making them more prone to decay. But there's some good news: Chocolate, a favorite treat, washes off the teeth relatively quickly — and dark chocolate has less sugar than milk chocolate.
Give It Away:
You can always give away some or all of your candy stash to people who will appreciate it: first responders or troops serving overseas, for example. Some organizations sponsor donation (or even buyback) programs. Try searching the web for programs like "Operation Gratitude," among others.
Timing Is Everything:
If you do allow candy, limit it to mealtimes. That's when saliva production is at its peak — and saliva helps neutralize acids and wash away food residue that can cause cavities. Whatever you do, don't let kids snack on sweet treats from the candy dish throughout the day: This never gives your mouth a chance to bounce back from the sugary saturation.
Get Healthy Hydration:
For quenching thirst, water is the best choice. It helps your body stay properly hydrated and is needed for healthful saliva production. Sugary or acidic beverages like sodas (regular or diet), so-called "sports" or "energy" drinks, and even fruit juices can harm teeth. Fluoridated water (like most municipal tap water) has been shown to help prevent tooth decay. If you drink bottled water, look for a fluoridated variety.
Following these tips — and making sure your kids maintain good oral health with brushing, flossing, and routine dental office visits — will help keep them safe from cavities, not only at Halloween but all year long. If you have questions about cavity prevention or oral hygiene, please contact our office or schedule a consultation. You can learn more in the Dear Doctor magazine articles "Tooth Decay — How to Assess Your Risk" and "How to Help Your Child Develop the Best Habits for Oral Health."
By Andrew J. Spiridigloizzi, D.D.S.
October 12, 2017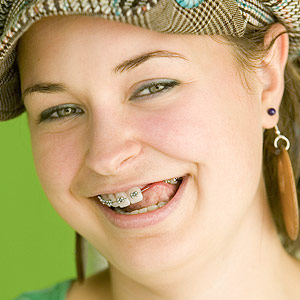 There are good reasons, for both health and appearance, to replace a missing tooth with a dental implant or similar restoration as soon as is practical. The bone around a tooth socket diminishes the longer it remains empty, up to 25% the first year. And, of course, your smile is less attractive, especially with a highly visible tooth.
If it's your teenager, though, you may need to wait on a permanent restoration because their jaws are still developing. An implant placed before completion of jaw development could eventually appear out of alignment with neighboring teeth.
Our biggest concern is protecting bone health at the site of the missing tooth. We can do this and encourage growth by placing bone grafts (processed minerals from another donor) that serve as scaffolds on which surrounding bone can grow. Grafts usually dissolve (resorb) over time, but the rate of resorption can be slowed for a younger patient in need of long-term bone growth.
Planned orthodontic treatment can usually go on as scheduled. The orthodontist may accommodate the tooth loss by adding a temporary tooth within the braces or other device that matches the color and shape of the patient's natural teeth. The orthodontist will also take care to maintain the empty space for a future implant or other restoration.
A dental implant is considered the best option for a missing tooth, not only for its life-like appearance and durability, but also its ability to encourage bone maintenance. Timing, though, is essential for teenagers. As it grows, the upper jaw will tend to move forward and down. Natural teeth move with this growth; implants, though, are attached differently and won't move with the jawbone. While the other teeth around them move, the implants can appear to shrink back resulting in an unattractive smile appearance. So waiting until the jaw has finished growing is important.
For most people, jaw growth finishes by age twenty-one for men, women usually faster, but each person is different. The dentist's expertise and experience, coupled with comparisons of adult family members' facial appearances, will help determine the right time to undertake a permanent restoration for the best outcome both for health and a permanent, attractive smile.
If you would like more information on treating teenagers with missing teeth, please contact us to schedule an appointment for a consultation. You can also learn more about this topic by reading the Dear Doctor magazine article "Dental Implants for Teenagers."