My Blog
Posts for: September, 2016
By Andrew J. Spiridigloizzi, D.D.S.
September 22, 2016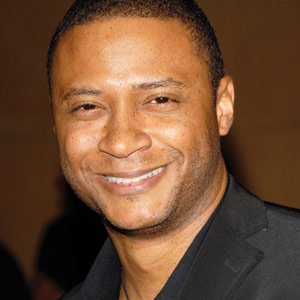 Can you have healthy teeth and still have gum disease? Absolutely! And if you don't believe us, just ask actor David Ramsey. The cast member of TV hits such as Dexter and Arrow said in a recent interview that up to the present day, he has never had a single cavity. Yet at a routine dental visit during his college years, Ramsey's dentist pointed out how easily his gums bled during the exam. This was an early sign of periodontal (gum) disease, the dentist told him.
"I learned that just because you don't have cavities, doesn't mean you don't have periodontal disease," Ramsey said.
Apparently, Ramsey had always been very conscientious about brushing his teeth but he never flossed them.
"This isn't just some strange phenomenon that exists just in my house — a lot of people who brush don't really floss," he noted.
Unfortunately, that's true — and we'd certainly like to change it. So why is flossing so important?
Oral diseases such as tooth decay and periodontal disease often start when dental plaque, a bacteria-laden film that collects on teeth, is allowed to build up. These sticky deposits can harden into a substance called tartar or calculus, which is irritating to the gums and must be removed during a professional teeth cleaning.
Brushing teeth is one way to remove soft plaque, but it is not effective at reaching bacteria or food debris between teeth. That's where flossing comes in. Floss can fit into spaces that your toothbrush never reaches. In fact, if you don't floss, you're leaving about a third to half of your tooth surfaces unclean — and, as David Ramsey found out, that's a path to periodontal disease.
Since then, however, Ramsey has become a meticulous flosser, and he proudly notes that the long-ago dental appointment "was the last we heard of any type of gum disease."
Let that be the same for you! Just remember to brush and floss, eat a good diet low in sugar, and come in to the dental office for regular professional cleanings.
If you would like more information on flossing or periodontal disease, please contact us today to schedule an appointment for a consultation. You can also learn more by reading the Dear Doctor magazine article "Understanding Gum (Periodontal) Disease."
By Andrew J. Spiridigloizzi, D.D.S.
September 07, 2016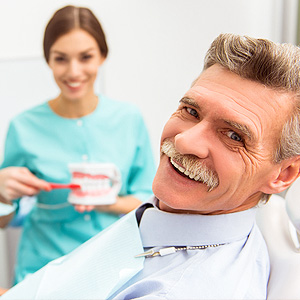 People are choosing dental implants at an increasing rate to replace missing teeth, either as an individual tooth or as a support for other restorations. But unlike other replacement options, we must surgically install the titanium post at the heart of the system directly into the jawbone.
While the term "surgery" might make you nervous, there's nothing at all to worry about. Here's what you need to know about before, during and after this relatively minor procedure.
Before. While the actual procedure is no more complicated than a tooth extraction, it ultimately depends on careful planning beforehand. Using x-ray diagnostics, we prepare a precise surgical guide to help us locate the best position to place them for a successful outcome. We'll also need to check bone volume to make sure there's an adequate amount to securely anchor the implant. If the bone is insufficient you may need bone grafting to build up the site or another replacement option.
During. The actual procedure begins, of course, with local anesthesia to numb the site — you should feel no pain and very minimal discomfort. We access the bone through the gums; often using a surgical guide for alignment, we create a small channel or hole with a sequence of drills that gradually increase the size until it can accommodate the implant. We remove the implants from their sterile packaging and install them immediately into the channel. After confirming their proper positioning with x-rays, we can close the gum tissues over it for protection during healing or attach a healing abutment that extends through the gum tissue thereby avoiding a second surgical procedure.
After. Because we disrupt relatively little of the soft tissue and bone, there's only minimal discomfort afterward easily managed with aspirin, ibuprofen or similar anti-inflammatory medication. We may also prescribe antibiotics to guard against infection while the gums heal. During the next several weeks, the titanium post, which has an affinity to bone, will become more secure as bone cells grow and adhere to it. It's also during this time that a dental lab creates your permanent crown or other restoration that matches the color and tooth shape so it will blend with your other teeth.
This process is complete when we install the final restoration onto the implant. You'll have a new smile and better function.
If you would like more information on dental implants, please contact us or schedule an appointment for a consultation. You can also learn more about this topic by reading the Dear Doctor magazine article "Dental Implant Surgery."