My Blog
Posts for: May, 2015
By Andrew J. Spiridigloizzi, D.D.S.
May 29, 2015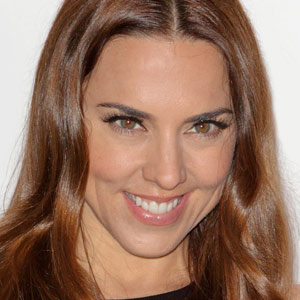 As a member of the best-selling pop group Spice Girls, Mel C (AKA Sporty Spice) enjoyed her share of musical superstardom. At the band's peak in the Nineties, the young singer's signature look featured baggy sweatpants, an assortment of tattoos, a nose stud and a gold-capped incisor, front and center in her mouth. Today, Melanie Chisholm is still singing — but now she's a mom, an amateur triathlete… and that gold tooth is just a memory. Not only that, her smile looks more evenly spaced and whiter than it did when she was referred to as the "tomboy" of the group.
What happened? In our view, it all boils down to changing tastes — plus a little bit of help from dental professionals. As the "wannabe" singer proves, there's no single standard when it comes to making your teeth look their best. Your own look is unique to you — and your smile can reflect that individuality.
For example, crowns (caps) are substantial coverings that may be placed on teeth when they are being restored. They are available in three types: gold, all-porcelain, or porcelain-fused-to-metal. The latter two are tooth-colored, while the gold is — well, shiny like gold bling. Which one is right for you? In many cases, it's your choice.
Likewise, dental veneers — wafer-thin shells that can correct cosmetic issues by covering the surface of your teeth — can be made in a variety of shades. Their hues may range from natural ivory to Hollywood white, and everything in between. What's the best color for you? Only you can say.
Some people opt for a "smile makeover" that uses small irregularities in the spacing and color of teeth to create a more "natural" look. Other folks want a perfectly even, brilliant white smile that dazzles the eye. Still others are looking to match or restore the smile they once had — perhaps even re-creating a signature gap between the teeth. As long as there are no other dental issues involved, the choice is yours.
So if you're unhappy with your smile — or if you feel it doesn't reflect the person you "wannabe" — why not talk to us about a smile makeover? Just call our office to schedule a consultation. You can learn more about this topic in the Dear Doctor magazine articles "Beautiful Smiles by Design" and "The Impact of a Smile Makeover."
By Andrew J. Spiridigloizzi, D.D.S.
May 08, 2015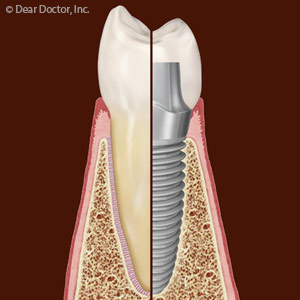 Dental implants have become the standard for long-term tooth replacement. From mechanics to movie stars, people from all walks of life have discovered the advantages of replacing a missing tooth with an implant. Obviously, restoring your smile is a definite advantage, but an implant can also help to maintain the health of your jawbone and adjacent teeth.
The implant is a small, screw-like titanium post that is placed into your jawbone to function as the root part of the tooth. The living bone tissue will actually attach to the titanium post, fusing them together. This will not only provide a sturdy anchor for a natural-looking crown, but will provide stability for bridgework or dentures. You will then be able to smile, chew and talk as if all of your teeth are natural. The procedure will also help to stabilize the bone, reducing long-term bone loss that occurs when a missing tooth is not replaced.
At this point, if you are thinking that there must be a lot of pain involved, I have good news for you. There is very little pain involved after the procedure is completed and no pain at all during the procedure. Typically, it is a routine surgery that takes place in a dentist's office under local anesthesia where the immediate area is numbed. If there is any apprehension at all about the procedure, we will offer alternative anesthesia or sedation options during the planning process.
To determine who will be a good candidate for the implant procedure, a plan must be in place to assure the success of the implant. Part of the plan includes:
Reviewing your past medical and dental history. We must know your complete past and present medical history and medication use, since good health is essential. There are certain conditions and diseases that can affect the healing of an implant.
Performing a comprehensive dental examination. An evaluation of your dental problems and needs will determine if implants are in your best interests. An assessment of the health and mass of the jawbone as well as the number and location of the implant(s) that are needed to restore your bite and smile back to health will also be determined.
When the implant procedure has been successfully completed, there is one more step. As with your natural teeth, preventive maintenance is crucial for long-term success. A daily routine of brushing and flossing along with regular professional dental cleanings and checkups will help ensure continued gum health and proper functioning of your implants.
If you are wondering whether dental implants are right for you, contact us for more information or schedule an appointment for a consultation. You can also learn more about dental implants by reading the Dear Doctor magazine articles "Dental Implants" and "Dental Implant Surgery."